Bridges International is a caring community of Christ-followers committed to serve, promote social connections and engage in spiritual conversations with international students so that students become leaders internationally.
You've traveled across the globe and adjusting to life in a new country can leave your head spinning. Let Bridges and other international students who have come before you ease your transition. Who knows? In the future, you might even find yourself serving other international students.
Social Connections
You've landed in Richmond and while you may have left your family or lifelong friends behind, you can find a home in Bridges.
We host a variety of events to help you engage with others and form new friendships. We have special holiday parties throughout the year, like Thanksgiving, Christmas, Valentine's Day and Easter. You will get to know the importance of these events in American culture, enjoy some new food and maybe even learn a new song. The unique nature of a Bridges gathering is how multi-national the makeup is. We want every culture to feel welcome. P.S. It's totally fine if you want to joke about American culture (we can laugh at ourselves).
Spiritual Conversations
While in the U.S. you have the freedom to explore questions about life and God. Everyone has an important perspective and Bridges wants give you a place to share, listen and explore thought-provoking topics with other students about God and faith and its relevance on our lives.
Bridges International Staff
Joshua Earman grew up in the Shenandoah Valley of Virginia and studied Interdisciplinary Social Sciences and Secondary Education at James Madison University. For eight years he worked in a non-profit mentoring college students to grow in leadership. He also studied abroad for a year in Asia where he learned the excitement and challenges of living in another country. In 2013 he received a Masters of Divinity from Covenant Theological Seminary in St. Louis.
His work with university students and professors from around the world continues to affirm his belief that academia is a unique space where ideas are exchanged, dreams are shaped, and meaningful friendships formed.
Joshua is married to Katie, who works as an elementary school teacher. Together they raise their four children (Anna, Beth, Eva, and Isaac) in a home full of books and laughter.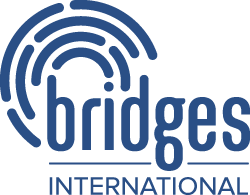 Bridges International is a national organization and includes 380 full-time and nearly 600 part-time staff and student leaders.
Get connected with Bridges International in Richmond